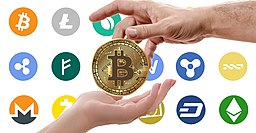 Cryptocurrency is rapidly growing in popularity, both as a technological solution to many real world financial applications, and as a speculative investment either for the long term, or short term trading for profit.
The amount of money invested is substantial, in the region of $270 billion, yet is dwarfed by that involved in FOREX (Foreign Exchange) which is in the trillions. Unlike FOREX, Cryptocurrency is easily accessible to a wide range of investors and traders, from large institutions to individuals with a few thousand dollars (or other currency) to either invest for the long term, or trade on a weekly, daily or even minute by minute basis.
There are many places available to buy, sell and trade Cryptocurrency known as Exchanges. Many of these exchanges do not accept FIAT (government-issued currency - the traditional paper money) but only Cryptocurrencies such as Bitcoin. To be able to trade Cryptocurrency the first step is to convert FIAT money into a suitable Cryptocurrency that can be transferred to exchanges and used to trade against other cryptos.
Buying Cryptocurrency
For the new investor, buying some Cryptocurrency is often the first difficult step in gaining entry to the world of Cryptocurrency investing and trading. There are many consumer oriented websites, CFD trading platforms, and Apps for mobile phones based around Crypto Wallets and Charting software that will let a user buy Cryptocurrency, mostly Bitcoin but may be others, using a credit card, payment card or possibly bank transfer. These consumer based points of entry often have very high fees, or the price of the Cryptocurrency being bought is very much higher than the price that can be obtained on an exchange.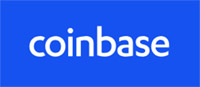 Coinbase is one of the largest and most trusted exchanges that is popular as it offers FIAT trading and makes it easy to transfer FIAT funds (USD, GBP, EUR etc) into an account without fees so that it can be used directly to purchase a range of Cryptocurrencies. The range offered covers the major cryptos, such as Bitcoin, Ethereum, Ripple, Litecoin, EOS, & USDC, but is limited compared to the major exchanges that deal in crypto only such as Binance. Use this link to Coinbase to sign up and get 10 USD of Bitcoin free.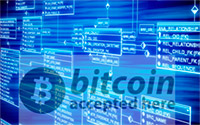 Once FIAT funds have been transferred to Coinbase, or similar, they can be used to buy Cryptocurrency at the market rate, with the ability to monitor the price and buy at the best rate possible at the time. Once the desired Cryptocurrency has been bought, Bitcoin (BTC) for example, then it can be held on the exchange, transferred to a wallet (either software or hardware), used in trading, or transferred to any other exchange for use in trading against altcoins.
Investing in Cryptocurrency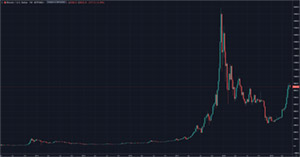 Bitcoin has gone from around $100 in 2014 to nearly $20k at the end of 2017, which is a 20,000 % increase. The price has since dropped dramatically to around $3200 at the end of 2018, and is again showing incredible growth in 2019 to over $8k per Bitcoin. The volatility is well known, and thus the high risk associated with it. But may people see Bitcoin, and some of the altcoins, as potential log term investments. A lot depends on what the individual investor believes will happen to cryptocurrency over the next 5-10 years, with some analysts suggesting a $100k Bitcoin, while others will suggest a potential collapse to below $1800. The market is highly volatile and extremely risky, but the potential returns over the long term may be very high - or nothing!
One method of investing in cryptocurrency over a longer period is called dollar cost averaging and is a popular technique, both in crypto and other assets. DCA as it is known, involves the investment of a set dollar (or other currency) amount regularly, once a month for example, regardless of the price, or with a small amount of price checking to optimise purchases, over a long period. The actual price paid for the cryptocurrency will then become the average from all the previous purchases. It can be a relatively stress free method of investing for those that are happy o allocate a proportion of their regular income to investment in crypto.
Trading Cryptocurrency
There are many ways of using your crypto, be it Bitcoin, a stable coin like USDT, or one of the major alts such as Ethereum, to trade against another cryptocurrency with the aim of increasing the amount of Bitcoin owned, profiting in another alt, or profiting in USD or other Fiat currency - or often a combination of all those. Trading Cryptocurrency is a very complex endeavour and not to be undertaken lightly as there are many aspects that need to be taken into consideration, such as the working methods of exchanges and the fees incurred, and the use of orders such as market orders, limit orders and stop losses. There are more pointers to trading in out Trading Crypto section. For now two good places to start are:

Binance is the best known of the exchanges for trading a large range of cryptocurrencies including Bitcoin. Use this link to Binance to sign up.
Coinbase is also increasing the number of pairs available on the platform for trading, and it also allows trading FIAT (USD, EUR, GBP etc) directly for select pairs, which may be useful, though it still has a limited number of pairs in comparison to the major exchanges.